Human Resources
18+ In-Depth Student Reviews of Studying CIPD with ICS Learn
Accelerate your HR career with a globally recognised CIPD qualification.


---

When you're considering providers for CIPD qualifications, it can seem almost impossible to make a decision.
To help you make up your mind on whether our HR and L&D courses are right for you, we're giving you a sneak peek into what it's like to study with us through our CIPD student reviews.
Below, you'll find a cross-section of reviews across all levels, so no matter which CIPD qualification you're thinking of studying, you can read about our past and current students' experiences.


---

Jump to: 

ICS Learn CIPD Level 3 Student Reviews
Anika Parmar


"After choosing ICS Learn, I had a number of recruiters contacting me for HR roles and I couldn't believe it! The level of attraction I received once putting the words 'Studying towards CIPD' on my CV was immense.
Anika also studied a Level 7 qualification with us after completing her Level 3 course. Here's what she had to say about her experience with the Advanced qualification.
"I would highly recommend this to anyone who is thinking of doing the same and is serious about their career progression...It's definitely beneficial and has opened up a lot of doors for me, especially when the job market is so competitive!"
Read Anika's full Level 3 review, or check out her review of our Level 7 course here.


---

Nin Sandhu


"I really wanted to break into HR/Learning and Development roles, but the jobs I was applying for required a CIPD qualification, so I then took the leap and started with ICS Learn.
"From not being able to get an interview for roles I started getting offers as soon as I mentioned CIPD on my CV."
---
Nikki Long


"Other course providers did not offer upfront information about how support would be given and by whom. ICS Learn proudly promoted their tutors and high levels of expertise. This gave me confidence that I would be in good hands.
"Just one month after enrolling with ICS Learn for my CIPD course, I landed my first HR role and am over the moon!"
---
Marion Turvey


"I have now found an HR position for a reputable local company, in an industry I am passionate about. I am able to care for my family and study at the same time – everything at my own pace.
"I want to work my way up towards business partnering and I have now enrolled to the HR Management Diploma Level 5; I am genuinely looking forward to the course content."
---

Leah Davies


"I love how the course is designed to be done around full-time hours at work, so I can still support myself and manage my bills without taking such a massive pay decrease like I would've done going back to university.

"I look forward to...actually making a difference within the world of HR."

---

Kate Hughes 
 "Enroling in this course has given me the confidence to pursue a career in HR.
I would highly recommend ICS Learn because of their professionalism - from the call centre staff to the tutors. The website is easy to use and the course martial is easy to follow."

Read Kates's full review. 
ICS Learn CIPD Level 5 Student Reviews


Hollie Powell


"I have had a fantastic experience studying with ICS Learn and I would like to encourage others to do the same. I genuinely feel like the course is helping me achieve bigger and better things in my career."


---
Rohit Das
"I started studying my CIPD Level 5 Diploma in Learning and Development...and it has been instrumental in upping my knowledge and confidence levels within the span of one year.

"I would like to move into a Learning and Development Manager role and I believe that this qualification will be a key differentiator."

---
Emily Chambers


"Once I got into the habit of studying, it became part of my routine. The 24 access to the dashboards and the study guidance ICS Learn provides is really helpful.
"I now have the confidence and skills to work at a more strategic level, looking at the bigger picture within HR."
---

Pete Williams 


"After adding to my CV that I'm working towards a CIPD qualification through ICS Learn, I have already had three employers shortlist me for the next stage in recruitment for jobs that I actually want to do!
"I cannot recommend ICS Learn enough."
---
Susan Burns


"I started studying my Level 5 CIPD Diploma in Human Resource Management in April 2018 and it has given me the confidence and boost needed to finally make the move into a HR role.
"In August I managed to secure my first role in HR, after working in recruitment for nearly 20 years."
---
Dave Lamb


"I've found studying with ICS Learn so convenient. I was able to work when and where I wanted but still received any support I need from tutors. They had timely, knowledgeable responses and were always willing to help.

"I feel being associated with CIPD gives me a real advantage and credibility for the future."
ICS Learn CIPD Level 7 Student Reviews


Rayhan Abdullah Zakaria 


"What impressed me the most with ICS Learn was the way they personalised their customer service around my needs, not simply treating me like some random student.

"They are also fully online, and this meant I could fit the study session around my busy life of pursuing Doctoral research with a UK university, working, as well as managing my busy family life, my HR blog, and developing my YouTube channel and multiple social media platforms."

Read Rayhan's full review.


---
Claire Wise-Bradley 


"I find that the webinars are extremely useful and are an engaging tool with an opportunity to ask questions and support one another.

"I firmly believe that both the theory I have learned and continue to learn with ICS Learn and the practical, hands-on element of working within Human Resources will provide me with great opportunities for the future.

"I would happily recommend ICS Learn to anyone looking to study with flexibility. The support and resources available are fantastic."
---

Klaudia Czechowicz


"Shortly after getting my CIPD Level 7 Diploma, I got an interview for an HR Business Partner role within my company and secured the role. I have been an HRBP for 10 months now and have never been happier!"
---
Wesley Lum


"I found the members of staff and tutors from ICS Learn are highly responsive, professional, and committed to their students.
"All units within the module were very informative, well-written, and well-delivered due to the tutor's experience and knowledge in Human Resources."
---
Aziz Hassan


"I have been able to pay in equally affordable interest-free monthly instalments which no other competitor I found can provide.
"I really appreciate the speed tutors usually turnaround to your inquiry, super-fast - it's almost like they are available 24/7."
---
Bernadette Aquino


"I have been able to use my studies in making decisions at work and able to relate the practical way of my work to my academic studies.
"The tutors on my modules are friendly and approachable which has made me feel very supported throughout the course."
Read Bernadette's full review.


---
Check out this video compilation for more CIPD student reviews: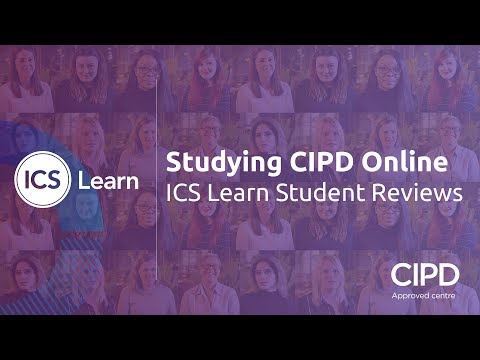 We hope that these reviews have helped you to decide whether studying your CIPD qualification with us is right for you.
If you have any questions about our CIPD courses or choosing which course is right for you, do get in touch with our specialist advisors – they'll be more than happy to help.
---

Discover how our online CIPD qualifications can take your HR or L&D career to the next level. Get your free online CIPD course guide today to get started.

Ready to advance your HR career?
Request your guide to getting CIPD qualified online with unlimited 1:1 tutor support and interest-free plans.