Apprenticeships
Apprenticeships Webinar: How to ease the 20% off-the-job challenge
The apprenticeship levy has been in effect for more than two years, with organisations with a payroll of over £3m paying in 0.5% of their wage bill every month.
However, of the £1.39bn available levy training funds, just £108m has been collected by employers to invest in apprenticeship programmes. This is a huge waste, as 24 months after funds are paid in, they expire and are lost to the employer.
---
Why are Employers Losing their Levy Funds?
One of the main challenges cited by businesses that aren't using the levy is the challenge of meeting the 20% required off-the-job training for apprentices. Managers don't want to 'lose' their apprentice one day per week for training, as apprentices will have everyday work duties, projects and responsibilities to take care of.
However, this requirement doesn't have to mean losing a member of staff for a day each week, as the 20% training requirement can be achieved flexibly online.
Plus, setting aside time each week to focus on professional development benefits both the apprentice and the organisation long-term.
---
How to Meet the 20% Requirement Flexibly 
As experienced online training providers, we want to make more employers aware of the options that exist for the off-the-job training requirement. That's why we've teamed up with PM Insight in a webinar that explores how to ease the 20% challenge while taking full advantage of your apprenticeship levy.
Our Apprenticeship Consultant, Stephen Norris, will guide you through the following aspects of apprenticeship training:
How to choose a training style that fits your needs, whether face-to-face or online
How to turn the levy into a strategic advantage
How online training can fulfil the 20% off-the-job learning requirement with minimum time away from the office
How to set a flexible schedule that delivers results when and where you need them
Watch the webinar free here: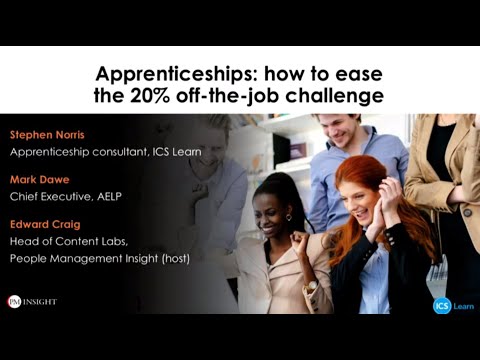 ---
Asking the Audience 
During the course of the webinar, we polled our audience of senior HR and L&D leaders to find out more about their experience of the apprenticeship levy. Check out what they had to say about their strategy, spending and understanding of the levy:
---
Find out more about the using your apprenticeship levy to upskill new and existing members of staff.
---