The Apprenticeship Levy presents a fantastic opportunity for businesses to develop their workforce, acquire new talent, and broaden their L&D strategy.
However, companies face a number of pitfalls when managing their levy and developing their apprenticeship programme.
Here, digital-first apprenticeship pioneer Sean McCready explains the most common mistakes businesses make – and how to avoid them.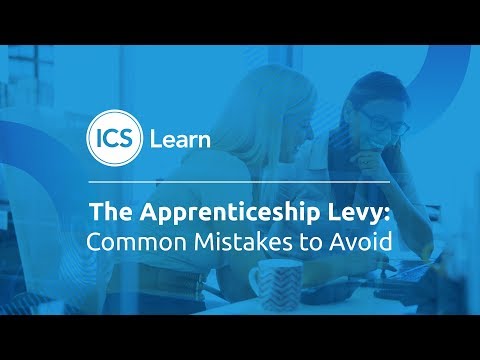 ICS Learn apprenticeship leader Sean McCready has more than 20 years' experience pioneering the design and delivery of digital-first apprenticeships. 
He led some of the first online apprenticeships for the UK's largest employers, and he specialises in using technology and online assessment to enhance the flexibility of his apprenticeship programmes.
'The introduction of the apprenticeship levy and the new apprenticeship standards have created a huge amount of new opportunity,' Sean explains.
'However, you need to make sure you use your levy – that seems intuitive enough, but you only have 24 months to use the levy funding. The minute you start automatically paying into the fund, the time is ticking.
---
'Make sure you engage one of the training providers on the Register of Apprenticeship Training Providers (RoATP). They'll help and guide you through the process of both managing your levy funding and gaining the training and support that you need.
---
'One of the great things about the apprenticeship levy is that it's introduced a huge amount of choice into the sector. There are flexible training providers such as ICS Learn who can provide you with tailored programmes, and there are also more traditional training providers.
'You're the employer, you're the one who needs the skills and you're the one paying the money, so it's really important that you make the right decisions and make sure that you're not just fitting the training around your business but actually designing the training to suit your business.'
---
Still got questions? Our apprenticeship consultants will guide you through the levy from beginning to end.
As a RoATP-approved apprenticeship provider, we design and deliver a digital-first apprenticeships that are tailored to your needs.
To find out more, click here or fill in the 'Request a Consultation' form to contact our advisors.