Former athlete Sabrina Cham reviews her journey to becoming a fully qualified, REPs-accredited personal trainer with our online Level 2 and 3 combined course, and gives her advice for future students.
---
Becoming a personal trainer was something I'd been wanting to do for a while, but it was also something that I'd been putting off for a number of years.
My background is in athletics and I competed to a European level. Unfortunately, injury waylaid that, and I had to retire.
I ended getting caught up in the rat race, as you do, working a 9 to 5 – which is great, you meet a lot of nice people, but it's not really what I wanted to do.
Throughout that time, I still continued training and keeping fit, but life got in the way of pursuing what I really wanted to do, which was to work in the fitness industry.
This course at ICS Learn was perfect for me as after completing Level 2, I could go straight into Level 3 without taking a break, getting distracted and putting it off for another 10 years!
Also, because the course is 100% online, it worked perfectly for me. I'm a mother of a young daughter and I also work full time, so the time for me to commit to going to a classroom is just non-existent.
I needed something where I could study at my own pace and fit it around my family and my work life, and this course was perfect in terms of allowing me to do that.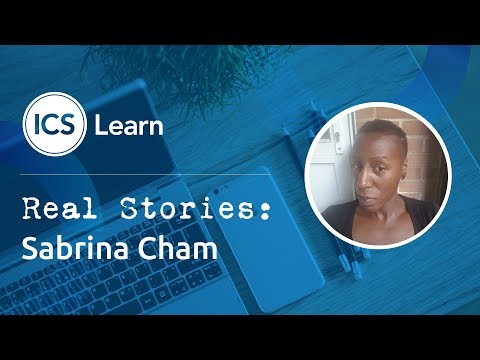 ---
Filming your practical assessments
For my practical assessments, I did these at my local gym with my gym buddies. You need to ensure that you and your gym buddies have access to the same gym.
I did sometimes use a tripod to film, but it's very convenient if you have a third person on hand to film; it's just a better-quality video. Also, you need to ensure that prior to filming you have permission from the person in charge at the gym.
I found it a lot easier to film when the gym was quieter. Around Christmas and New Year, it can get really busy, and when you're trying to do a programme with a 'client' and you need it to flow in the way you've planned it, and you've got lots of people in the gym using the equipment you need, it can be quite time-consuming and off-putting.
My advice would be to ensure you're organised and know in advance what it is you're trying to show and achieve.
When you're doing your practical assessments, it's your time to shine, you're showing the assessor what you can do once you're a fitness instructor or personal trainer, how your sessions will flow. You always need to have in the back of your mind, as much as you're focusing on filming it, that it's also your time to shine, your time to say this is me, this is how I work and this is how I'm going to do things.
---
Sitting your theory exams at home
When sitting my exams at home, I had to make it fit around my family and my working life. I'd tend to do the exams when I was on leave from work, when I had a day off or a bank holiday, or even at the weekend when I knew I didn't need to wake up early the next day and when the husband and the little one were in bed so I knew I had the space to myself.
Prior to sitting the exam, make sure you have everything on hand that you need: your photo ID, your student ID number, your password to log into the system, and a calculator if you're using one. Make sure you show all these to the camera so the assessor can see what you're working with.
With proctored exams, the webcam is filming you, and you need to make sure you also film your surroundings. Make sure the table you're working on is clear of papers and anything that might be a distraction.
It's advisable that you do the mock exams first so you understand how it all works and how the exams flow, rather than jumping in feet-first and thinking 'oh god, I didn't realise it was going to be like this' – get a feel for it first.
Also, a few days prior to taking the exams, I made sure everything was connectable, that my laptop and everything worked with the system. You don't want to decide to sit the exam when you might have limited time then find out that nothing actually works. If you do a set-up a few days before the exam to make sure everything's running smoothly, you've got time to get back to student services and say this isn't working or this isn't compatible.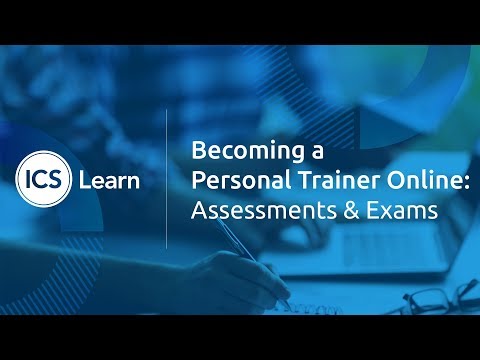 ---
Unlimited on-call tutor support
The support from my tutor wasn't as I expected, and that's by no means in a bad way.
I think sometimes you forget that the course is 100% online and you're working at your own pace, so  you need to get in touch with your tutor if you encounter any problems or issues.
That being said, your tutor is there whenever you need them. They're always available to answer questions, and student services too. Remember that it's good to initiate contact and if you're having problems give them a call – they really are there all the time.
How your relationship with your tutor works all depends on the level of support that you need.
---
Studying and learning online
In terms of the course itself, I really enjoyed it and I learned a lot. It's not easy; it's a lot of information to take in and it's stressful at times. There is a lot of work involved.
I think sometimes people tend to think that because a course is online it's easier, but it probably means you've got to retain a lot more information. You've got to put the time in and plan your time accordingly to make sure you can get through all the modules and assessments.
There's a lot to learn, especially for Level 3, so make sure you plan your time in advance and use the practice exams and your tutor to ensure you're retaining information and understanding it as well.
That being said, I fully support this course and highly recommend it. Just be prepared to work – it's a lot to take in, but at the same time it's enjoyable.
I feel like I've learned a hell of a lot through this course. I'm from an athletics background so I'm quite aware of anatomy and fitness, and even so I still learned a lot from this course.
---
What's next?
So what are my plans and my next steps? Now that I'm fully qualified – woo! – I want to get out of the rat race, get out of project management and get into the fitness industry.
It's not going to happen overnight. I'm pretty lucky that I'm currently on maternity leave, expecting the baby within a couple of weeks, and I'm taking a year off so I'll have time to put together a business plan.
I'm also currently working on a logo and a website, and I have a few clients that are interested already in working with me.
I'm looking forward to the future. It's all about growing my own business and seeing what I can do, chasing those dreams and ensuring that those dreams work.
I'll be putting in the time and the effort, and thanks to ICS Learn I have my qualification and I'm REPs-recognised as well.
ICS Learn, I thank you. I take my hat off to you.
---
Inspired by Sabrina's story? Find out more about our YMCA Awards online personal training courses.
Want to hear more from our fitness students? Read Jacqui and Sophia's stories.