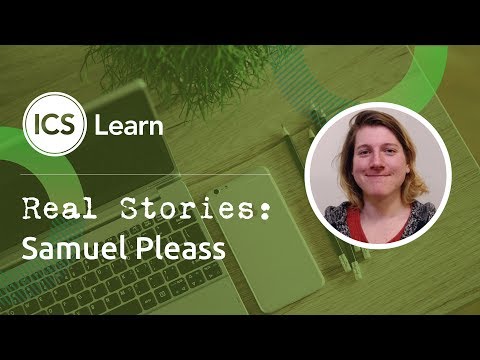 Our world-travelling student Samuel Pleass reviews his journey to getting his GCSE Maths with our online course.
---
Samuel needed his GCSE Maths in order to apply for an engineering degree. He decided that the flexible nature of online learning would help him reach his goals.
What were you doing before studying at ICS Learn?
After I finished High School in September of 2015 I sat around for ¾ of a year gestating ideas in my head about what to do with my life, went on an exchange in Estonia for a month then spent another two meandering around continental Europe until I had no money left.
Were you worried about returning to education after a long break?
Yep.
What worries did you have?
I didn't really know how or where to start or whether I was even capable of getting back into something that I really didn't have a very good track record in.
Were your fears an issue once you had started studying?
It took a few weeks to get into the swing of things but once I was at full stride I was really surprised about how good it felt to get the gears and cogs in my head turning. The two adjectives that can best describe it for me are 'satisfying' and 'stimulating'.
Is learning important to you?
Yes, more important than anything. Irrelevant of what I'm learning, it's something I've always loved doing even when most of the time it hasn't been in the conventional scholastic sense.
What made you decide to try distance learning instead of attending a traditional college?
My untimely arrival back from my wondering wanderings about the continent meant that I missed the cut-off date for college applications by a number of months.
It was something I was secretly pretty glad about because I knew jumping into college right off the bat wasn't for me.
I also wanted to start learning stuff right away and didn't want to wait until the new school year turned over; I'm kind of impatient like that.
Why did you choose ICS Learn?
There wasn't anything I didn't like about what I saw; now that I'm in it, there's still nothing I don't like. The whole 'real people you can ask questions and stuff' was also a pretty big factor in my decision.
What did you enjoy most about your course?
How the syllabus is laid out in units with the intermediary tests is something I very much approve of; makes it very easy to figure out what stuff you know and what stuff to revise further. Actually thinking, having to analyse, comprehend and articulate, is another aspect that is an absolute hoot.
What has been the most challenging aspect of your course?
Getting into a routine of studying every day; not at a set time, a routine of studying for a set amount of time each day. I study for about 3 hours on weekdays, a bit less on weekends. It took me around a month to ramp up to that intensity.
What are you hoping to achieve next?
Around the time of the new school year I'm going to poke my head around colleges a bit and see what's happening with them. After that in November I'll be taking my Maths GCSE.
Once I've got a handful of GCSEs, then it'll be onto a handful of A-Levels and finally, hopefully, it'll be into the big boys' league of studying an undergraduate in a Mechanical or Aerospace Engineering degree at a university, one preferably made of red bricks.
What draws you to an engineering degree?
A mix of Thunderbirds and LEGO.
What tips and tricks would you offer to other students studying online?
If you're new to this like me, don't go crazy right off the bat and study for 6 hours for the first two days then be sick of it for a week. Don't be silly like myself. Start off studying 10 minutes a day for a week, the next week 20 minutes a day, then 40, then a full hour.
Even on days where everything is rubbish and its 11pm and you comfort ate your way through a full portion of chips (don't lie we've all been there), whip out your laptop and study for just 10 minutes. You don't need to go crazy, read some stuff and take some notes if you feel like it.
It doesn't matter that didn't do much today because tomorrow you'll be better and you know you will. This is the long game; baby steps up a shallow incline is the path you want to take.
Form habits, be consistent and discipline yourself into the mantra of 'I'm going to study every day'. It gets easier but only if you do it every day. 
Inspired by Samuel? Find out more about our online GCSE courses.