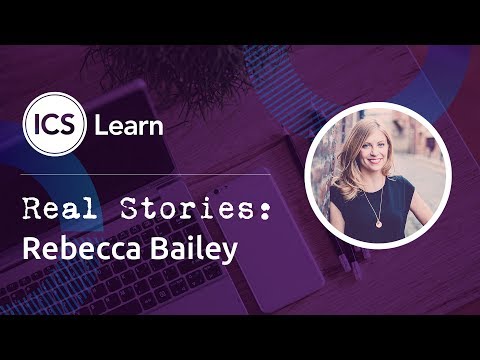 Our fantastic student Rebecca Bailey reviews her journey to getting CIPD qualified with our online CIPD Level 3 Diploma in Learning & Development.
---
As I'm writing this I've just come back off a 2-day ICS Learn workshop*, Delivering Learning and Development Activities.
I had an absolutely brilliant experience; the tutor was great, I got to put my training skills to the test and most importantly I got to meet other ICS Learn students! 
It felt so good to chat to them about how they were finding things - it was great to affirm that getting behind on your studies is quite normal and that, from time to time, we all get stuck on the assignments!
---
I've finished the weekend with some new friends and I'm full of enthusiasm for putting the things I learnt into practice in my day job.
---
I decided to study Learning and Development (L&D) to help me in my role as a Training Consultant. 
Since starting this job in 2014 I've absolutely loved it and right from the start I knew I'd found the area I wanted to build my career in.
---
During my first 6 months I learnt so much on-the-job but I realised that to get a real depth of knowledge I needed to get back to basics and pick up some of the core L&D theories. 
---
When I was making my decision on what to study I was drawn to the CIPD courses. It just seemed to make sense to go with a course accredited by them - they're the professional body for people development so I knew I'd be earning a recognised qualification and I was confident that the course content would be high quality.
I found that lots of different training providers offered these CIPD courses but I chose ICS Learn because I needed flexibility in my learning. 
---
My learning style has always been to need to learn at my own pace and I didn't want to have to commit attend formal classes once a week.
---
ICS Learn offered the perfect solution, their online training lets me pick up and put down my studies as and when but there's also occasional workshops which let me connect with other students.  
---
My experience of studying with ICS Learn has been brilliant. They make the whole studying process really painless and are always on hand to offer support, whether that's Student Services booking me onto a workshop or tutors who are always on hand to answer questions.
---
Despite this great support, it does come down to you to make sure you progress. I have to admit that I've found it hard to balance my studies with my job, family and life in general!
If you're thinking you might be the same, then don't panic… it does get easier! I found that once I got into a routine and remembered how to study again, things became a lot easier.
Passing and progressing through them modules is also great motivation, seeing your progress makes you feel great and want to carry on.
I've still got 3 modules to complete before I finish my Diploma: E-Learning, Coaching and Evaluating L&D Activities. They're quite diverse modules really and that's one of the things I've loved, I've been able to look into the many different areas of L&D and identify what I'm most interested in.
---
On completion of the course my next steps will definitely be to look into what I can study next…  I've got the learning bug!
---
If you're inspired by Rebecca's story and want to help others through learning and development, have a look at our online L&D courses.
*Workshops only mandatory for CIPD Learning & Development Level 3 courses.