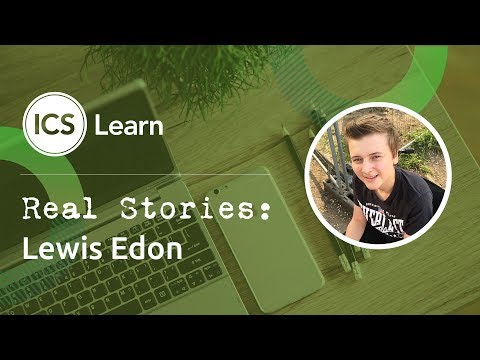 Our incredibly inspiring 15-year-old student Lewis Edon tells us about his journey to getting his English Language IGCSE and gives us his review of studying online.
---
I started studying with ICS Learn in March 2016. This was due to the fact I have a very rare bone disease and cancer in my right tibia bone. Due to a severe fracture in this leg, I became home educated, as appointments and operations meant I would have had too much school absence.
We chose ICS Learn as they offered a brilliant array of IGCSEs, flexible learning, excellent tutor support and even a flexible payment plan. Their courses were considerably cheaper than other home education providers, and so this was a better all-round option.
My dad has previously studied with ICS Learn, so studying with them must run in the family! The course I chose to study was IGCSE English Language.
---
So far I have taken 4 assessment marked tests and achieved a B and 3 As! I am very happy with this as at school, my grades were Ds or below.
---
My tutor Anna, gives excellent feedback with my marked tests, all which will help in the revision leading up to my exam in June.
I am really enjoying this course. I have found it to be really good in that it teaches you everything you need to know in a way in which you can understand it. 
Being that I have a very serious disability and have to take strong medication, I get very tired in the afternoons. With ICS Learn I can utilise my studying around when I want to submit my test papers, therefore working when I am feeling well enough to do so.
I aim to study a further two IGCSEs with ICS Learn, starting them in June, following my English exam. I am looking at studying maths and dual science and hopefully achieving good pass grades in all of these, to progress hopefully to college or into an apprenticeship. 
---
I highly recommend ICS Learn, particularly to other home-educated teens, as I have found them to be a brilliant study provider. I hope I do their courses justice in my exams! 
---
Exam Results Update
Lewis's mum told us:
After weeks of sleepless nights, I woke up to the email from Lewis' exam centre. He got a C! We ran upstairs to deliver the news to a very sleepy Lewis, no idea who was more excited us or him!
For a 15-year-old, who has sat his exam a year earlier than his fellow peers and who is home schooled due to a serious disability (osteofibrous dysplasia and cancer by the name of Adamantinoma), we are incredibly proud, all of us!
Read the full update here.
---
If you'd like to show your support for Lewis and his family, they have asked that you donate to Family Fund, a charity supporting families with disabled and seriously ill children.
If you'd like to find out more about studying GCSEs and IGCSEs online with us, click here.